Double Up for Charity
We are thrilled to announce that we have teamed up with Double Up Drive once again and will be hosting another charity stream on Saturday, December 19th, starting at 17:00 UTC!
Run It Once Poker will be donating €10 for every player who plays a hand on Run It Once Poker on Saturday, December 19th (00:00 – 23:59 UTC).
Double Up Drive has pledged $684,350 in matching funds to ten highly impactful charities and will be accepting donations through December 27th (or until they exhaust their matching funds). Up to $10,000 of every donation made will be matched 1:1 on a first-come-first-serve basis.
We'll be broadcasting this event on the Run It Once Poker Twitch Channel. Below, you can see a list of pros participating and the schedule for the event.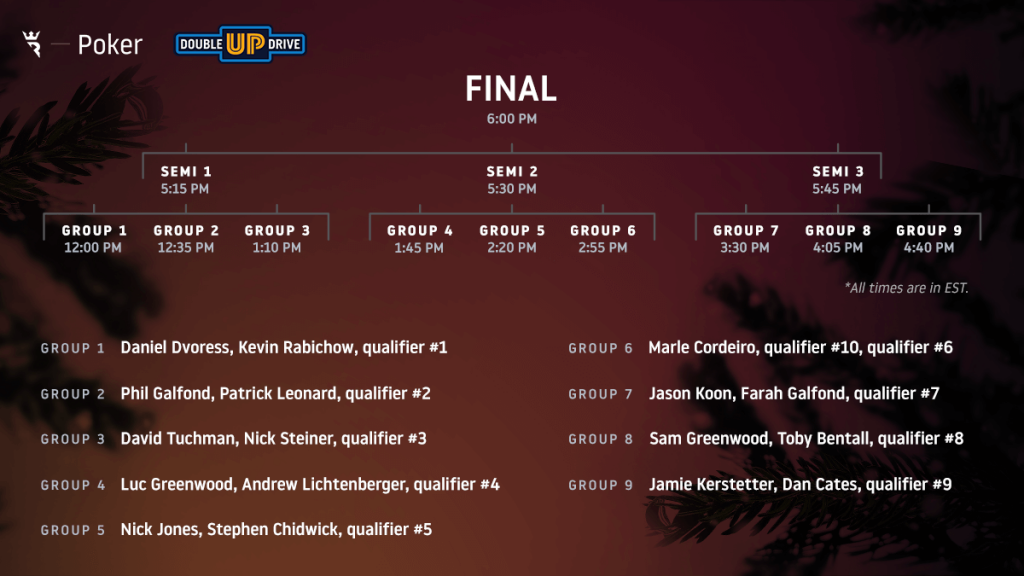 SNG Shootout
We have invited eighteen of your favourite pros to take part in a twenty-seven player, Pro-Am, SNG Select Shootout! We also left nine seats up for grabs for our donors!
For your chance to participate, all you need to do is make a donation of any amount before 23:59 UTC on Tuesday, December 15th. Once you've made your donation, just send a screenshot to [email protected]. We'll reserve five spots for the individuals who make the largest donations and select four other donors at random to participate in the event.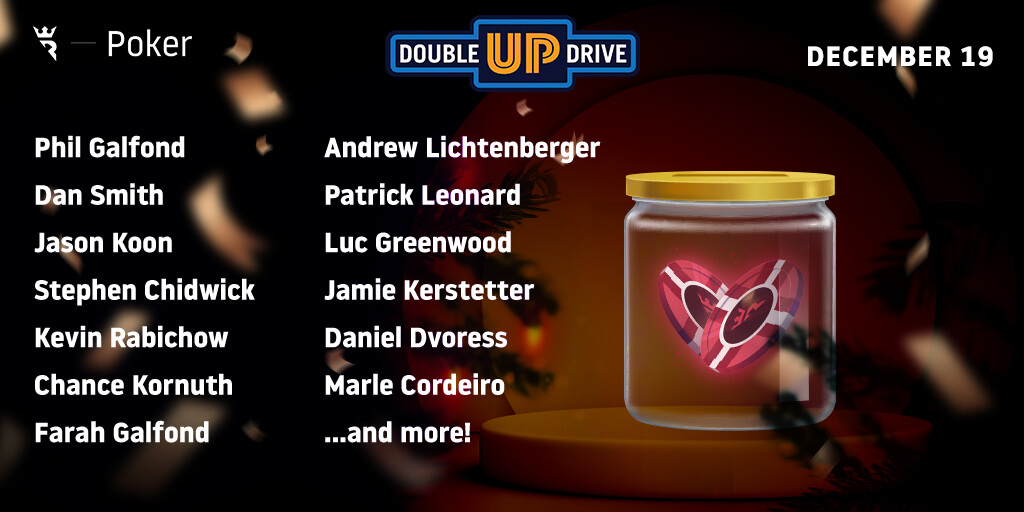 Tournament Format
We just launched three-handed, hyper-turbo Sit-N-Gos, which we call SNG Select. Players can select our Cub3d variant and play for up to a 1,500x multiplier or select our Classic option and play for a fixed prize. When selecting Cub3d, you may even win a prize when you lose!
In the first round, participants will be split into three player groups, and every group will play three Cub3d SNGs. Our Cub3d SNGs offer variable prizes for first place, and players can also win a prize when they come in second or third place, which means anyone can advance! The player with the highest balance will advance to the second round.
In the second round, once again, the winners will be put into three player groups. However, we will transition into a Classic SNG shootout, which means every group will play one SNG match, where the winner will advance to the finals. The three winners will compete in one final Classic SNG, where one player will be crowned as the champion!
Want to Join?
All of the donor seats have been filled.
18 spots for the pros.
5 spots are reserved for the largest donors.
4 spots have been randomly awarded to anyone that made a donation.
What Does The Winner Get?
The winner of the tournament will receive a trophy, access to A-Game Poker Masterclass, 3 months of Run It Once Training's Elite plan, and 3 months of Run It Once Training's Vision GTO Trainer.
How Do You Donate?
Click on the link below to donate and then send a screenshot of your donation to [email protected] to be entered for your chance to play in this exclusive SNG Select charity tournament. If you want to donate but can't do so via any of the methods provided by Double Up Drive, please email us at [email protected] and we'll do our best to accommodate you.

If you're not currently in a position to donate but want to help support Double Up Drive or any of the charities that they work with, share this event with your friends and family to help us drive as much attention to this fundraiser as possible.
Largest Donations To Date
$7,500 donation
$7,500 donation
$3,128 donation
$500 donation
$270 donation
Tournament Rules
Qualifying donors will be required to screen share their tables throughout the entirety of this event. Additional information will be shared with qualifying players once the donor draw has been completed.
Donors who receive an entry into the tournament will receive an email from [email protected] informing them of their place on Wednesday, December 16th. They will need to reply to the email by 20:00 UTC on Thursday, December 17th confirming they agree to stream their play to our team and wish to play the tournament, or an alternate will be given the entry.