Mid-Rank Boost
We're kicking off June by adding extra value to our Legends rewards! During the week of June 1st – June 7th, players will receive an extra cash reward by completing three levels of any given Legends Rank!
Depending on which Rank players complete, they can earn an extra cash reward ranging from €5 to €1,000. Players can follow their progress by referencing their Legends banner in our lobby. Players will receive the Mid-Rank Boost by completing the third Level of any given Legends rank. Cash bonuses for completing the Mid-Rank can be seen in the table below.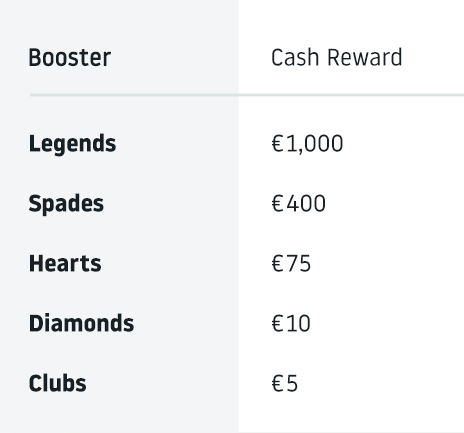 Getting Rewarded
Players are only eligible to receive one of the extra cash boosters. The extra cash booster will be based on the highest Rank a player completes three levels for.
For example, if a player completes 2 Levels of Hearts, they will receive an additional €10 from the Diamonds Mid-Rank Boost because Diamonds was the highest Rank where they completed at least three Levels.
Players will receive their additional Mid-Rank Boost with their weekly Legends payout. Legends payouts are credited to players accounts within 48 hours of the conclusion of the week.
Determining Your Progress
As mentioned, players can determine their progress by referencing their Legends banner in our lobby. Once a player completes the third Level of a given Rank, they are eligible for the corresponding Mid-Rank Boost.
For reference, we've included a screenshot of what your banner will look like when completing the third level of our Diamonds Rank below.
Promo Exclusions
There are no multipliers or additional boosts when determining the weekly cash booster for this promotion. Players will simply earn the corresponding cash bonus based on the highest Rank they completed at least three Levels for.
The added cash rewards from this promotion do not apply when calculating Four Week Streak Rewards, or Legend Reward boosts from any other offer/promotion such as Become A Legend.
Rules
This is a one-time promotion that will begin on Monday, June 1st at 00:00, and run until Sunday, June 7th. All times are based in UTC.
Please note, this promotion only applies to 6-max cash tables.
Read our full bonus terms & conditions here.