Splash Week Accelerator
On Sunday, September 1st, during a Cards Up with Phil stream, Phil Galfond added an accelerator to Splash Week! Playing while he streams will contribute to unlocking more rakeback whenever a goal is reached!

Rakeback will start at 65%, and you'll have the opportunity to increase rakeback all the way to 101%! Join the action anytime between 17:00 – 05:00 CEST, the following day, and you'll instantly see the extra rakeback splashed on the table!
How the Accelerator Works
Phil has implemented three goals based on a scoring system. Every hour during Phil's stream (19:00 – 00:00), the total score will increase based on that hour's peak active seats. Whenever a goal is reached, more rakeback will be splashed on ALL tables! Now, let's see the goals!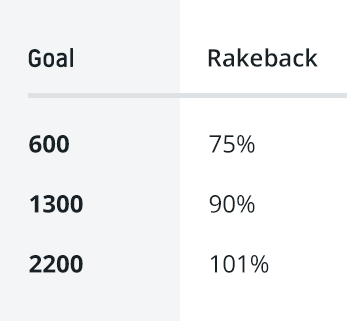 How is Rakeback calculated?
The mechanics will be the same as our standard Splash the Pot promotion, with the exception being we'll be splashing 65%, 75%, 90%, or 101% rakeback on the tables, depending on the current goal achieved, instead of the standard 51% rakeback.
When and how will players get rewarded?
Players that win splashed pots will be rewarded instantly.