Splashy Hours is Back!
Splashy Hours is returning! Every day from May 2nd to May 10th, we'll be hosting two separate 4-hour splashy hours windows, where we'll be increasing the rakeback via Splash The Pot. During the first two hours, we'll be cranking the rakeback dial up to 60%, followed by 45% rakeback during the third and fourth hour. This is in addition to rewards earned through our Legends Program.

Our four-hour splashy hours windows will begin at 00:00 on Saturday, May 2nd, and run through Sunday, May 10th, with the final splashy hours window finishing at 04:00 UTC on Monday, May 11th.
Extra 2-hour Window
On Wednesday, May 5th, we decided to add an extra 2-hour splashy hour window from 20:00 – 22:00 UTC! We're now increasing the rakeback via Splash the Pot for ten hours every day, for the rest of the week! During the first hour, we'll be doubling Splash the Pot and increasing the rakeback to 60%, followed by one hour of splashes that will return 45% rakeback on the tables!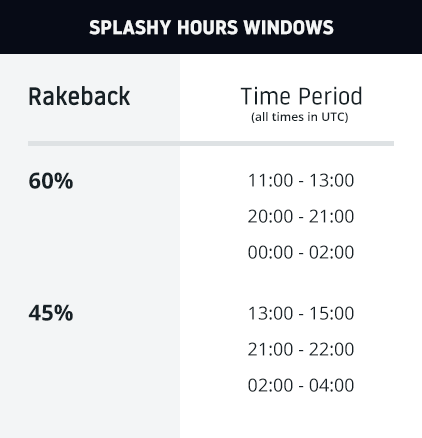 During Splashy Hours, every table will be splashed with extra rakeback. All players are eligible for this promotion. Join any table during any of the splashy hours, and instantly see the extra rakeback hit the tables!
How is Rakeback calculated?
The mechanics will be the same as our standard Splash the Pot promotion, with the exception being we'll be splashing 60% or 45% rakeback on the tables instead of the standard 30% rakeback.
When and how will players get rewarded?
Players that win splashed pots will be rewarded instantly.