101% Week
Last year, the poker world witnessed one of the greatest comeback stories of all time on Run It Once Poker. We're going to relive the final session between Phil Galfond and Venividi on the first anniversary on Monday, April 12th. Phil and Henry Kilbane will be hosting a watch party starting at 17:00 UTC, where they dissect the final session between Phil and Venividi. The watch party can be viewed on RunItOne.tv!

To celebrate this amazing achievement, we are bringing back 101% Week, where we will return 101% of the rake collected through various promotions across the week!

Every 24-hours, we will host a different promotion to spice up the action. 101% Week will kick off at 00:00 UTC on Monday, April 12th. Each promotion will start at 00:00 and run for 24 hours (23:59).

101% Week Schedule
The schedule for 101% Week and full details on each promotion can be found in the table below.
See what's going on each day
Anniversary Offer for New Accounts & First Time Depositors
Anyone who creates an account on Monday, April 12th will be eligible to receive €5 in free SNG Select Tickets!

Plus, anyone who makes their first deposit on April 12th will earn increased Legend Rewards for four weeks, up to €101 in SNG Select Tickets, and an entry into a draw to win one of the following three prizes: Access to Vision for one month, Access to From the Ground Up: PLO, or Access to PLO Puzzle.


Legends Bonus Reward
During your first four weeks on Run It Once Poker, we're going all-in and doubling your weekly cash rewards from our Legends Program!

For example, if you achieve Hearts Tier 5 for a given week during your initial four weeks, you'll receive €100 from our Legends program. Plus, we'll match that €100, so you'll earn a total of €200 for the week.

Players can track their progress throughout the week by referencing our Legends banner in our lobby. Full details on our Legends Ranks and cash rewards can be found here.


SNG Select Tickets
By making your first deposit on Monday, you will earn the chance to unlock up to €101 in free play! The value will vary based on your play during the week of April 12th – 18th. You will unlock the following prizes based on the highest tier of the Legends program, where you complete all 5 levels.
For example, if the highest Rank you achieve during the week is the fourth level of Hearts, which offers a €67.50 weekly cash prize, you would earn €10 in SNG Tickets because Diamonds is the highest Rank where you completed all five levels.You will receive your rewards within 96 hours from the competition of the week.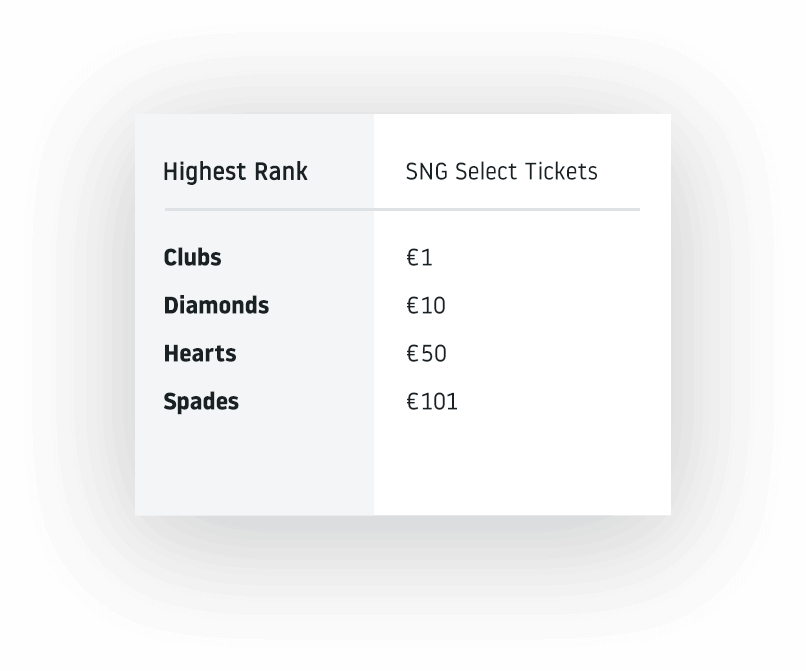 Terms and Conditions
This is a one-time promotion that will begin on Monday, April 12th, 00:00, and run through 23:59 on Sunday, April 18th. All times are based in UTC.
Read our full bonus Terms & Conditions