Aces Races
Everyone loves pocket Aces, so for two weeks Oct 25 – Nov 7, we're hosting an Aces Race, where players will receive SNG tickets worth from €1 to €20 every day they get dealt Aces!
How does Aces Races Work?
Any day a player is dealt pocket Aces in Hold'em or double suited Aces in Omaha, they will receive 1 or more SNG tickets with a total value of €1 – €20. The higher stakes a player gets dealt Aces or Double Suited Aces, the better chance they have of receiving higher value tickets. If a player receives the required hole cards in more than one stake, the highest stake that they received the hole cards for will be used for their ticket probabilities.
Players who play at least one Cash Game hand but are not dealt Aces or double suited Aces in Omaha will also receive one or more tickets with a total value between €0.25 and €20
The probability distribution for ticket values can be seen in the table below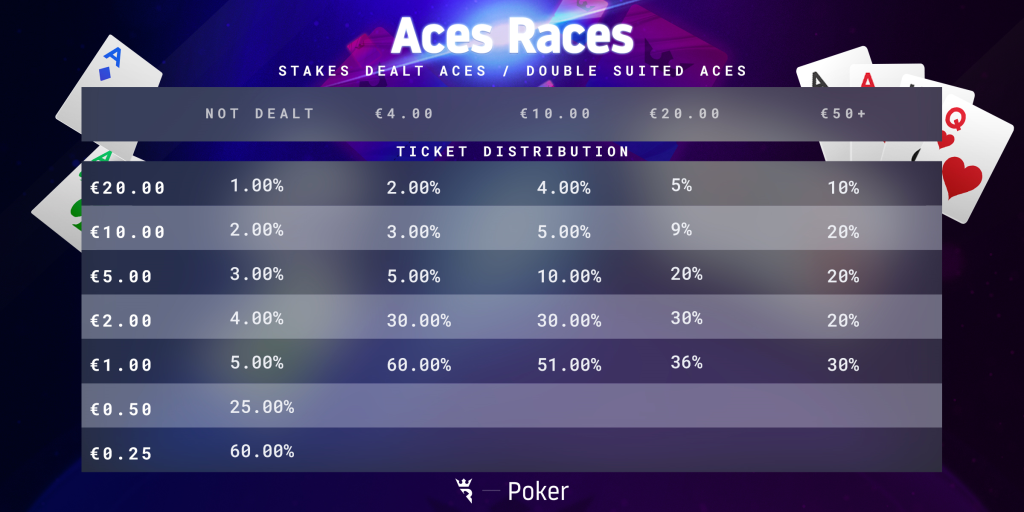 What hands are eligible
In No-Limit Hold'Em, both of your hole cards need to be Aces. The suits do not matter.
In Pot Limit Omaha, you need to be dealt double suited aces i.e two of your hole cards need to be aces, and your other two cards must match the suits of both of the aces you were dealt.
For example, if you were dealt the Ace of spades and the Ace of hearts, one of your other hole cards must be a spade, and the other hole card must be a heart, such as the King of spades and the Queen of hearts.
When will the tickets be credited?
Tickets will be issued 2 days after each day's play. For example, players on Monday, October 25th will receive their tickets on Wednesday, October 27th. Players on Tuesday, October 26th will receive their tickets on Thursday, October 28th etc.
Ticket Expiration
Players will have one day to use their tickets. Any tickets that are unused by 23:59 UTC on the day when they are issued, will automatically expire. For example, tickets for Wednesday, October 27th, will expire at 23:59 UTC on Wednesday. SNG Select Tickets are not transferable and cannot be redeemed for cash.
Players can track how much time is left on their tickets within the ticket section of our application.
Rules
This is a one-time promotion that will begin on Monday, October 25th at 00:00, and runs through Sunday, November 7th 23:59. All times are based in UTC.
This is a daily promotion. Days run from 00:00 – 23:59 UTC.
Please note, this promotion only applies to 6-max cash tables.
Read our full bonus terms & conditions here.