Daily leadRboards
Daily leadRboards are returning on Monday, October 26th! We will be hosting six daily leaderboards and one weekly leaderboard, where we will be giving away over €10,000 in cash prizes, plus Sit-N-Go tickets!
We will feature three No-Limit Hold'em and three Pot-Limit Omaha Daily leaderboards and one weekly €200PLO leaderboard. The prizes for each leaderboard can be seen below.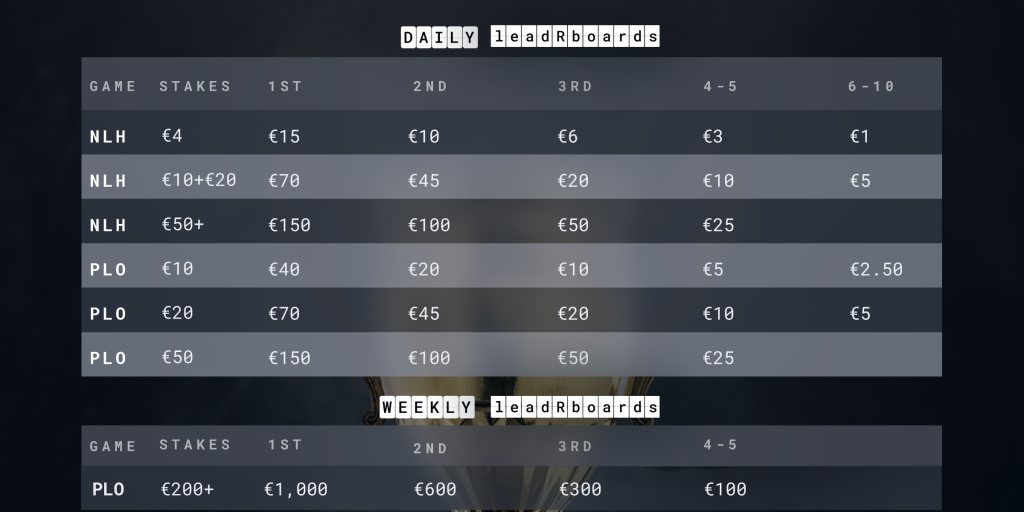 Added Sit-N-Go Tickets
We are adding extra Sit-N-Go Tickets to all of our daily leaderboard prizes! The prizes can be found below.
How are points earned?
Players will receive 1 point for every €1 generated in rake.
For example, if a player rakes €126.76, they would earn 126.76 points.
Players will be able to view their position in our client lobby. Players will see their own name and position when logged into the client, while all other players will be anonymous and represented as *********.
When do the leadRboards run?
Our daily leadRboards will start at 00:00 UTC and run until 23:59 UTC, with the first beginning on Monday, October 26th.
Our weekly leadRboard for €200PLO will start at 00:00 on Monday, October 26th, and run until 23:59, on Sunday, November 1st.
Getting Rewarded
Leaderboard cash prizes will be paid out within 72 hours from the conclusion of each leaderboard. Meaning, daily prizes will be rewarded within 72 hours of each day's conclusion, and weekly prizes will be rewarded within 72 hours after the week completes.
SNG Tickets will be credited directly to players' accounts once we have officially launched SNGs and will be valid for 28 days from the time of credit.
Once credited, winners will be able to use these tickets to buy-in to our SNG tournaments directly. Tickets credited will be specific to certain buy-in levels and cannot be exchanged for cash.
We will send winners an email when the tickets have been credited, and you can sign-up for SNG email updates to ensure you are kept up to date on all SNG developments.
Rules
This is a one-time promotion that will begin on Monday, October 26th, 00:00, and run through 23:59 on Sunday, November 1st. All times are based in UTC.
Please note, this promotion only applies to 6-max cash tables.
Read our full bonus terms & conditions here.