Greenback
When Phil ends in the green, everyone on Run It Once Poker earns extra green! During the week of May 4th – May 10th, any day Phil turns a profit against ActionFreak, everyone on Run It Once Poker will receive an additional 25% direct rakeback for that specific day! The extra 25% rakeback is on top of our standard Legends rewards!
Players will earn the extra rakeback for all their play between 00:00 – 23:59 UTC on that given day.
Galfond Challenge Schedule
The Galfond Challenge will start at 15:00 UTC, and each session will run for four hours. Phil will continue battling against ActionFreak at the €150/€300 tables, and they will be playing five days during the week, Monday, Tuesday, Thursday, Friday, and Saturday. All the action can be viewed live on Twitch!
Since Phil and ActionFreak are not playing every day, on off days, the next session's results will determine if the off days receive an extra 25% direct rakeback.
For example, Phil and ActionFreak will not be playing on Wednesday, May 6th, so Thursday's session results will determine if players will receive an extra 25% direct rakeback for Wednesday, and Thursday.
The full updated schedule and what days determine the Splash the Pot bonus can be seen below: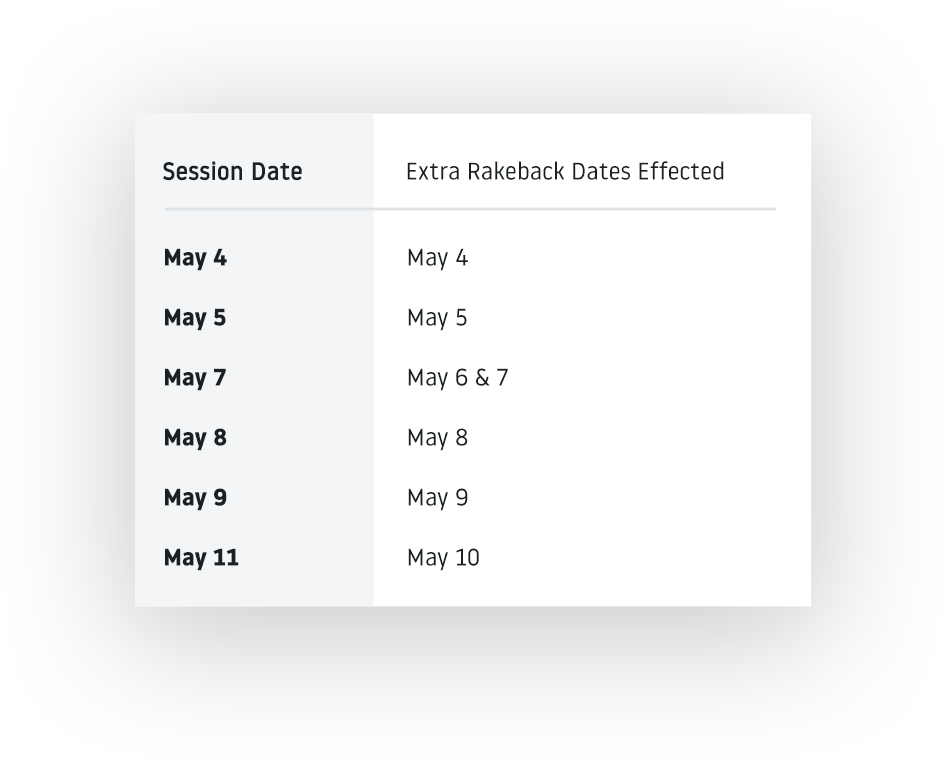 Rules
This is a one time promotion that will begin on Monday, May 4th, and run daily, through Sunday, May 10th. Please note, all times are based in UTC.
Please note, this promotion only applies to 6-max cash tables.
Read our full bonus Terms and Conditions.