Phil Galfond founded Run It Once Poker with the goal of keeping the online poker dream alive. Over the years, a big part of that dream has been epic high stakes battles for all to witness. With the Galfond Challenge, a series of high stakes heads up matches between Phil and his various challengers, Phil is bringing back the glory days of railing high stakes games.
"Who wants to play some high stakes poker with a washed-up ex-pro?!"
– Phil Galfond
In November, Phil challenged the poker community to a high-stakes, heads-up Pot Limit Omaha battle, with minimum stakes of €100/€200. Similar to the infamous Durrrr Challenge from back in the day, Phil offered his challengers odds from even-money up to 4-1, on a huge side bet for the overall match.
After two months of taking on challengers and settling on side bets, the action is finally getting underway on Wednesday, January 22nd.
Every session of The Galfond Challenge presented by Run It Once Poker will be live-streamed on Twitch.
Joe 'Stapes' Stapleton will be the lead commentator, and some of poker's most prominent legends will join him throughout the coverage.
The initial challenger is online phenom Venividi1993. Venividi and Phil will be playing 25,000 hands of €100/€200 PLO with a side bet of Venividi's €100k to Phil's €200k.
Phil and Venividi will play four hours a day, five days a week. Cards will be in the air between 17:00 – 21:00 CET, every Monday, Tuesday, Thursday, Friday, and Saturday.
The official sponsor of the challenge is MuchBetter, the smart payment and e-wallet app. Run It Once Poker and MuchBetter will each be running a number of promotions throughout the challenge giving all players a rooting interest.
To kick things off, Run It Once Poker has added a sweat for all of its players with their Splash the Winnings promotion. During the first two weeks of the challenge, Run It Once Poker will double every player's winnings from Splash the Pot on any day where Phil turns a profit.
The action will continue through the first half of 2020, as five additional opponents have raised their hands and confirmed their spot versus Phil.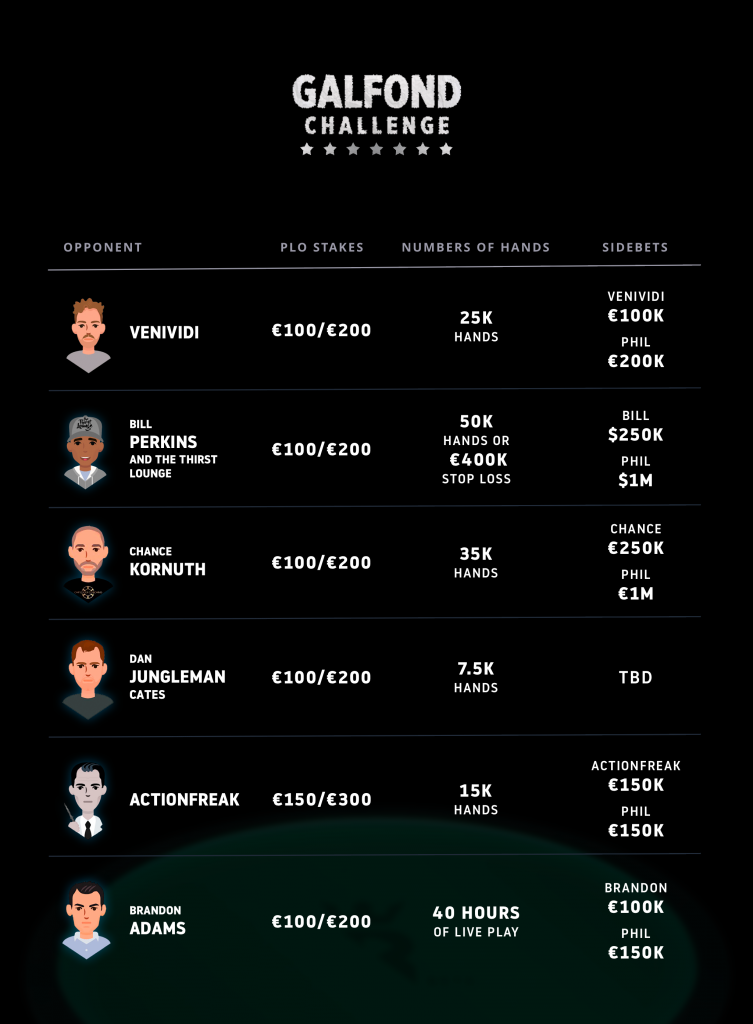 In addition to catching the live coverage and following along on social media, community members can head to the Galfond Challenge webpage to follow the results of every session.