As many of you know, it's always been my plan to share and explain any decisions that affect you as players. Today's topic will be quicker than previous ones, and it may not have needed a post like this one to announce, but there are a couple of decisions involved, so I'd like to let you know where we were coming from with them.

We launched in February with a 100% first deposit bonus (up to €600). This is a relatively standard bonus in the industry, but it's not the one we intended to launch with.

Our plan was to launch with our "welcome bonus," which worked similarly to most, but with two key differences:

There is no expiration date on the bonus, so long as you're active (play at least 1 hand) every 30 days.
You don't need to deposit all at once. All deposits in the first 30 days count towards your bonus (up to €600).
We felt these changes, though slight, would be fairer to our players and an improvement over industry norms. We didn't want to penalize players who hoped to try the site out before making a large deposit, and we didn't want to penalize those who only play a few days out of the month and didn't put in a lot of volume.
This is a relatively standard bonus in the industry, but it's not the one we intended to launch with.
As we approached our launch date, one of the major issues remaining was a bug related to our welcome bonus. There were a lot of moving parts, but our decision regarding the bonus came down to, more or less: Do we want to delay launch further in hopes of solving this bug in the next couple weeks, or do we want to launch now with a first deposit bonus that's not the one we designed?

We'd been delayed long enough, and we didn't know if the bonus issue would take days, weeks, or months to resolve. We figured that launching with a more traditional first deposit bonus wouldn't be that much of a negative, so we went ahead with the 100% bonus (up to €600), still with no expiration date (if you play each month), but only applicable to a player's very first deposit.

We planned to launch with this, and once fixed and tested, introduce the intended bonus system.

Despite first deposit bonuses being standard, there was some backlash regarding our bonus system – specifically that we only let it apply to a player's first deposit. I normally would've found backlash over an industry standard policy to be a little bit unreasonable, but in the case of our launch, it made a lot of sense. On our launch day, I asked everyone who wanted to support Run It Once to get onto the site and play at least one hand.

Several of our supporters put a small deposit on the site to do just that, only to realize later that they'd lost their opportunity at a larger bonus.

We didn't know we'd be launching with a different bonus system until very soon before our launch date, and it didn't occur to me in that hectic final push that my request from the community would lead to the bonus-related disappointment that it did for some of you. I felt terrible.

We wanted to make it right, but we didn't have an easy way to manually add extra bonuses for those who were affected, and even with some ideas for workarounds, we felt that giving extra bonuses to those who contacted us while not giving it to those who didn't (after we had explicitly stated publicly that bonuses applied only to first deposits), would be unfair to those who simply accepted the terms and didn't protest.

We quickly decided that once we got our bonus system working the way we planned, we'd make everyone eligible for it – even those who'd already deposited, so that they could get a full €600 (plus whatever their first deposit was) in bonuses. Though some would benefit more than others, we felt this would make everyone happy and would be more than fair, giving everyone, at minimum, the €600 bonus we'd initially planned to.

I wanted to announce this back then to ease the frustration of some of you who made smaller first deposits, but we decided to keep the good news to ourselves, primarily because we knew it could take a long time before it was implemented and tested to our satisfaction.

Anyway, I'm writing this all out today because we're now ready to implement the bonus system we designed from the start: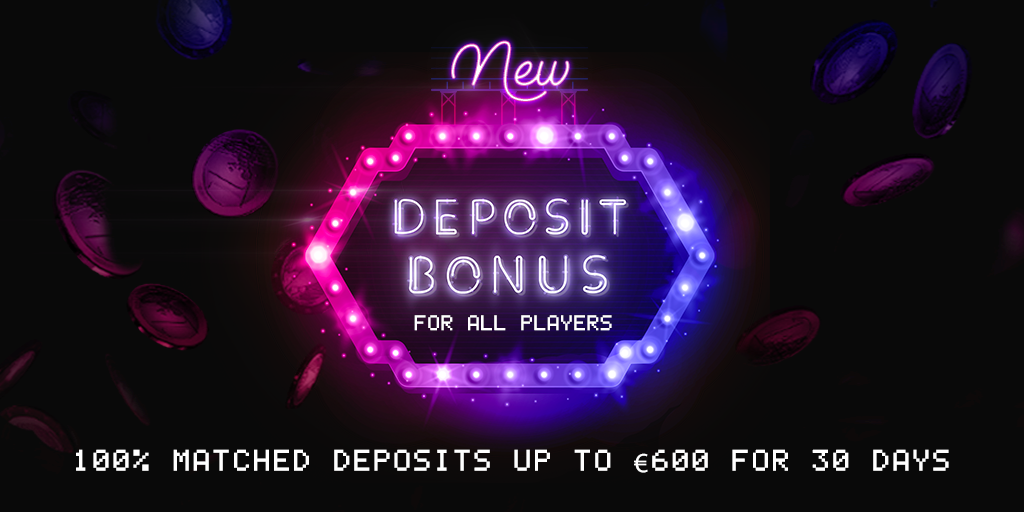 100% of all deposits within the 30 days after your next deposit, up to €600 total
All players are eligible, even if you'd already received your first €600 bonus, and whether you're still clearing that bonus or not.
No deposit code necessary
No expiration date for clearing your bonus (so long as you play 1 hand every 30 days)
You can find more details on our Welcome Bonus page. Note, our in-app UX for checking the status of this new bonus type isn't perfected yet, but we wanted to get the bonus itself out as soon as possible.

Thanks for bearing with us, especially if you were one of those frustrated after a small initial deposit.

Now, go get that bonus!